NORTH HOUSTON SUBURBS
Outside of Humble, African Americans make up a small percentage of the Northern Suburban population. Just under 50,000 African Americans make up about 7% of the population of these sprawling suburbs. But the percentage of growth of the Black population has been phenomenal during the last several years and is expected to outpace overall growth through the year 2014.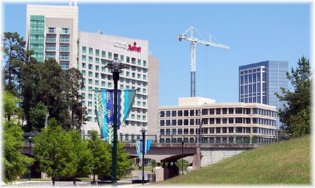 Besides the high end planned community of The Woodlands, the northern suburbs of Houston consist of several once small towns that are now becoming sprawling suburbs. They are home to many old time residents and middle-age empty nesters. Fueling the growth is a mix of middle age parent and young families moving further out from Houston or its inner suburbs. They are usually middle and upper middle income, child centered families who enjoy indoor and outdoor activities and usually have the latest technology in their homes.
Many of the zip codes in Cypress, Magnolia, Spring, Tomball, and Porter have experienced triple digit growth in African American population since 2000 and are expected to continue at least double digit growth for the next 5 years.
Overall, home prices are on the higher end for the metropolitan area; however there are some moderately priced areas in Tomball, Humble and parts of Spring. African Americans from the Northern sections of Houston are especially attracted to this area as are Black Migrants from outside of the Houston metro. Families are particularly attracted to the school districts, quality of life, proximity to work, and are less concerned with having to live exclusively among other African Americans. The school districts of Tomball, Magnolia, and Cypress-Fairbanks all have excellent reputations. Spring and Humble ISD have a mix of high and lower preforming schools.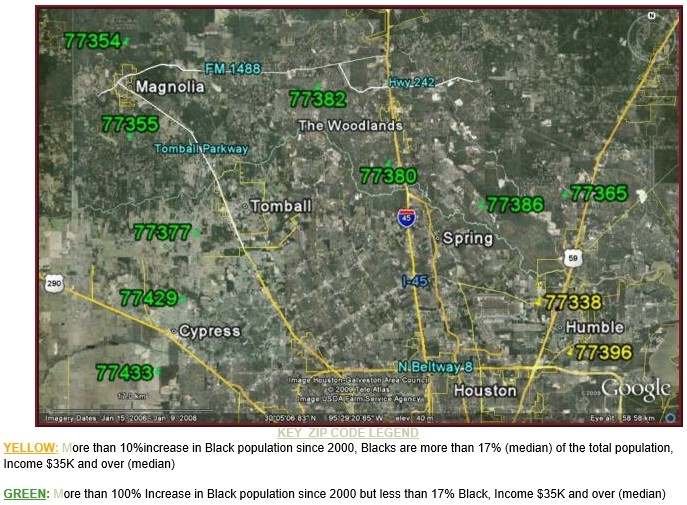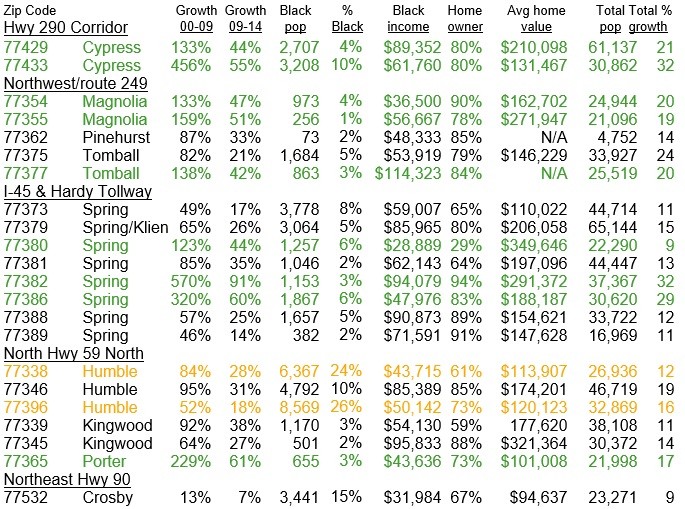 CONROE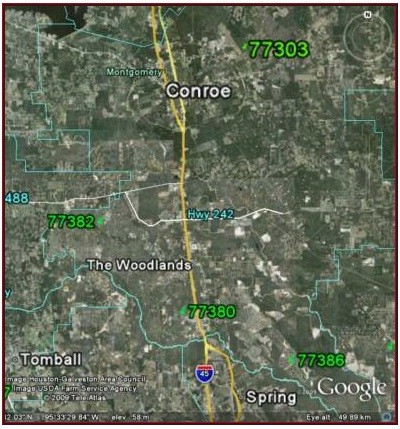 Located forty miles north of Houston, Conroe has experienced phenomenal growth building more than 3,000 homes since 2004. Growth has slowed recently due to the economy but new high end industrial, retail, and housing developments are still rising. Taxes are low, schools are good, and residents enjoy the smaller town feel. Although underrepresented in the overall population African American growth has been in the triple digits since 2000. The Black population is expected to outpace overall growth for at least the next five years.
The Conroe ISD has very good reputation with 44,158 students including those in The Woodlands. The district is 63% White, 26% Hispanic 7% Black and 3% Asian or Pacific Islander